Tunisia is a very popular tourist destination
, even though it's one of the smallest countries in North Africa.
This country offers many attractive sights to see including those of historical and cultural importance that are more than a match for anything that can be found in any other North African country. One of the factors that contribute to its historical and cultural charm is the fact that it has been occupied by many great Mediterranean Empires at different times, so those turbulent events are embodied in its history and have given this country a unique as well as interesting way of living that is quite unique in it and not at all like that of its neighboring countries.
Tunisia may be small in size but it has a lion sized number of important places to visit and many interesting activities to do which is why many Europeans flock here to sample the outstanding Islamic architecture and also to take in the sights of ancient Roman as also Carthaginian ruins. Given the friendly nature of its peoples, Tunisia is deservedly a hotspot as far as tourism goes and along with lovely sandy coastlines and the extraordinary deserts, you can be assured of an outstanding holiday and an enervating visit to this Islamic country.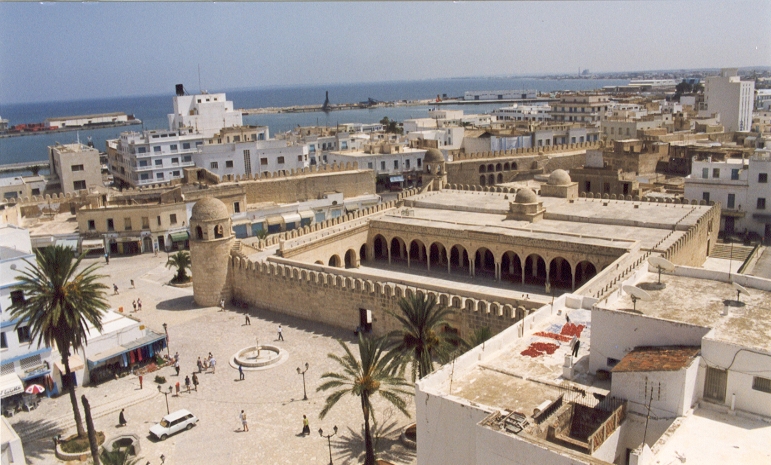 If you want to get the most from your visit to Tunisia,
then plan your holidays to fall within the months of March and May which is when the temperature is ideally cool and suitable for sightseeing trips and excursions. You can also keep September and October in mind, the latter being a bit mor windy in some parts of the contry. The warm summers attract most Europeans, so, in the summer months (June - August), be prepared to pay premium money for decent accommodation.
Even though Tunisia is a country of modest size, you will find many interesting places to see, not far away from wach other. A visit to
Tunis - the capital city
- will provide you with relaxation and then you can venture not far from here to visit
the ruins in ancient Carthage
as also
Utica
.
You may consider a visit to a small, yet thriving village of
Sidi Bou Said
, called "a pearl of Tunisian seaside" because of its spectacular blue-and-white architecture and almost magical atmosphere. You would also appreciate
the oasis town of Tozeur
that has breathtaking scenery as well as an outstandingly thriving market and the best way to enjoy the scenery would be atop a camel where you should try the camel safaris, which is a wonderful and amazing experience in itself.
You will be simply spellbound with your first glimpse of Tunisia with its golden beaches and wonderfully blue waters. A coastline of more than twelve hundred kilometers provides you with ample opportunity to take in the paradise-like attractions of this Mediterranean land. So, take in some of these places of interest such as Sousse, Monastir, Hammamet as well as Nabeul, Djerba as also Tabarka where there are many waterfront hotels for you to relax in and also enjoy sea sports as well as windsurfing and sailing.
There is also another equally enchanting side to Tunisia where you can view the ancient Roman, Arab as also Berber or Phoenician sites and here you can get a good reminder of the multifaceted historical past of this wonderful country.
Source:
www.sunny-holiday.pl
,
www.tunisiaonlinenews.com/